About
Co-Founder of Intro, an app-based platform that uses ultrasonic wireless tech to radically improve the way companies engage with customers in a physical space, exchange information, and convert their physical relationships to digital.
Whilst the two lifelong friends went to different universities – Exeter and Southampton – they reunited in 2017 and thanks to the support of SETsquared and the two universities, the foundations for Intro were built.
Fast forward two years and Intro is going from strength-to-strength, from exhibiting and providing their services to 25 businesses at the Consumer Electronics Show in January this year, to working with VSF19 to deliver today's event; Intro is rapidly gaining hundreds of new users and partners.
For more information on the services which Intro offers, Max and Tom can be found in the Innovation Zone exhibiting and will happily answer any questions which you may have.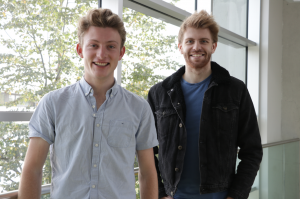 Sessions
9:45 am - 10:30 am
Welcome And Keynote Speeches
Where:
Derek Shackleton & Robin Smith & Atrium