The Big IoT Hack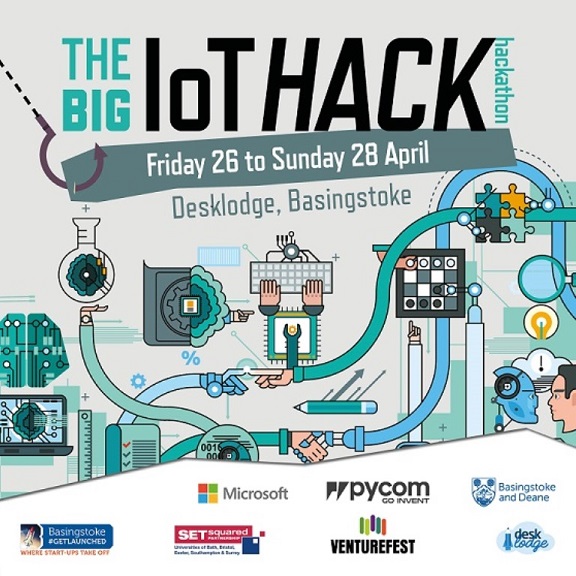 When: 26/04/2019
Where: DeskLodge Basing View Basingstoke RG21 4HG
Ready for a challenge? Could you design, develop and pitch the next killer smart technology?
On Friday 26 to Sunday 28 April 2019, join The Big IoT Hack at DeskLodge, Basingstoke.
Join us for an intensive but fun weekend to develop new smart technology which addresses real challenges faced by local residents and businesses. If you have passion for technology and the digital and business skills to match this is a great opportunity to collaborate, create an idea and bring it to market.
You'll have the whole weekend to develop a business plan and prototype solution and pitch them to a panel of expert judges who will select a winner. To help, support and inspire you throughout the weekend, mentors from Microsoft and Pycom will be on hand to talk through your ideas. And who knows, it could even be the start of a new enterprising journey as hack weekends often result in the formation of a new start-up company.
Schedule:
Orientation event:
Friday 26 April, 6pm to 8.30pm
Get to know your fellow hackers over beer and pizza, share ideas, form teams and get to grips with the challenge ahead so you're ready for the hard work over the weekend.
Weekend challenge:
Saturday 27 April from 9am to 9pm and Sunday 28 April 2019 from 9am to 6pm
After the orientation event on Friday evening the hack weekend will start in earnest at 9am on Saturday and will end with pitches to the judging panel on Sunday afternoon.
What you could win:
The winning team will get the opportunity to create a company based on their ideas with six months free business support from SETsquared – the world's leading university business incubator.
What you will need:
The fridge will be stocked and the kettle will be on.
With Pycom and Microsoft providing hardware for internet connection and a cloud environment between them, you'll be able to gather data from sensors, pass it up to the cloud and build your own product.
All you'll need to bring is your own laptop or tablet, we'll supply everything else.
So, if you are up to the challenge, come on your own ready to join a team and collaborate, or come with friends or colleagues as a ready-made team. If you come as a team its best to ensure you have well rounded skills e.g. technical skills combined with business skills such as marketing and project management.
It's simple: innovate, collaborate and create – and you could change the life of others.
This event is being jointly organised by Basingstoke and Deane Borough Council, The SETsquared Partnership and Desk Lodge, and is supported by Microsoft and Pycom.