Could you be the next Innovator of the Year?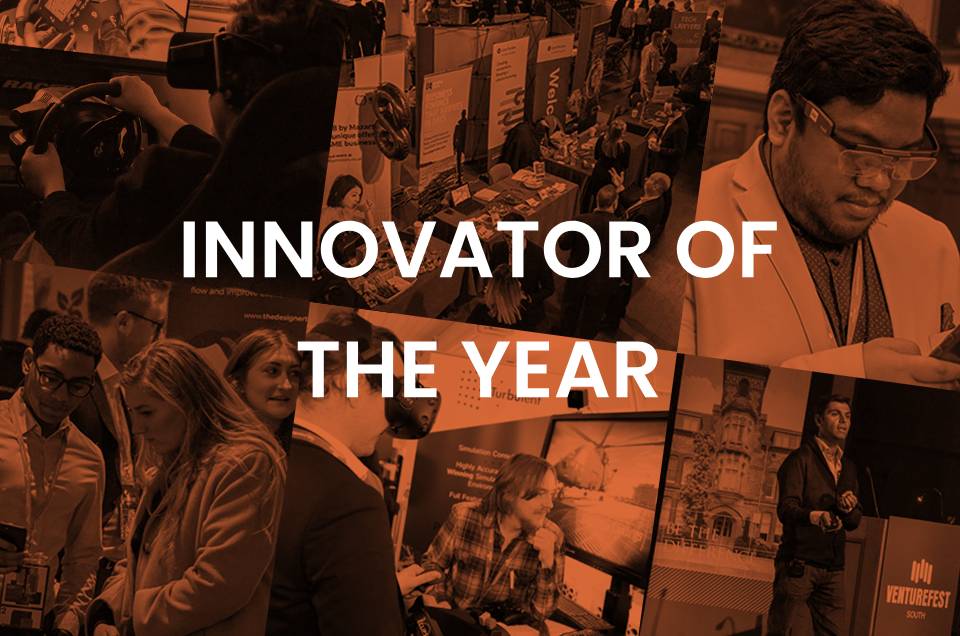 Everything you need to know about the Innovator of the Year award at #VFS19
Sponsored by Southampton Airport, the Innovator of the Year winner will be chosen by our specialist panel, from the freshest and most exciting new innovations, startups, disruptors and businesses which together signify the real power of the south's innovation economy.
Southampton Airport: Nurturing innovation at the heart of our region

Many cutting-edge technologies and innovative ideas took wing from within the aviation industry, and Southampton Airport is proud to be at the forefront of the innovation drive in the region. We are the first UK airport to use LED and solar-powered lighting on stands and runway, and the first airport in the UK and Europe to use an ornithopter – Robird – to deter real birds from our grounds.
Building on our previous successes, we have joined forces with our sister airports in Aberdeen and Glasgow to form an AGS Innovation Programme. It comprises a team of experts from across various departments with an aim to drive innovation initiatives to create and implement positive business changes. We are delighted to have our Business Innovation Leads, Amy Le Vieux and Sarita Mangan, to recognise the best innovators in the region.
Amy Le Vieux is the Environment Manager at Southampton Airport. CO2 and noise pollutions are one of the main issues in the aviation industry, and finding the best solutions to tackle them is a priority for Amy. As the Terminal Compliance Manager, Sarita Mangan is at the front of our company when it comes to customer service and passenger experience. As we prepare for the take-off of our expansion plans, innovation is an absolute key to a successful future. And let's be honest – the future is pretty bright.
Judging criteria
How well the business concept, and potential, was communicated
Level of innovation demonstrated by the business
Potential for investment and business growth
Commercial exploitation and/or social impact potential
Who's on the judging panel?
Chris Allington, Venturefest South Chair
Caroline Carter, Barclays Business Manager

Amy

Le Vieux,

Environment Manager at Southampton Airport

Sarita

Mangan,

Terminal Compliance Manager at Southampton Airport
Prize giving
Award sponsor, Southampton Airport has put forward a generous £200 Amazon voucher prize for the Innovator of the Year winner.
"Innovation is key to the continuing success and everyone has a part to play. It's important to us that innovation isn't just something we do, it's about being innovative in what we do."
Sarita Mangan, Terminal Compliance Manager at Southampton Airport
"Innovation is key to development and growth something that I and Southampton Airport take very seriously. Many people tend to equate innovation with technology, which often leads to technological solution – the belief that all the answers lie in technology labs. But innovation is actually just the way we go about improving or adding value to something or some process we already have. It is for this reason that I am very excited to be able to attend today as well as present this exciting award for Best Innovator 2019. What an honour to be able to do this as we can all appreciate the time and investment it takes to identify and refine an innovative solution."
Amy Le Vieux, Environmental Manager at Southamton Airport