Innovation on the frontline – a blog from #VFS18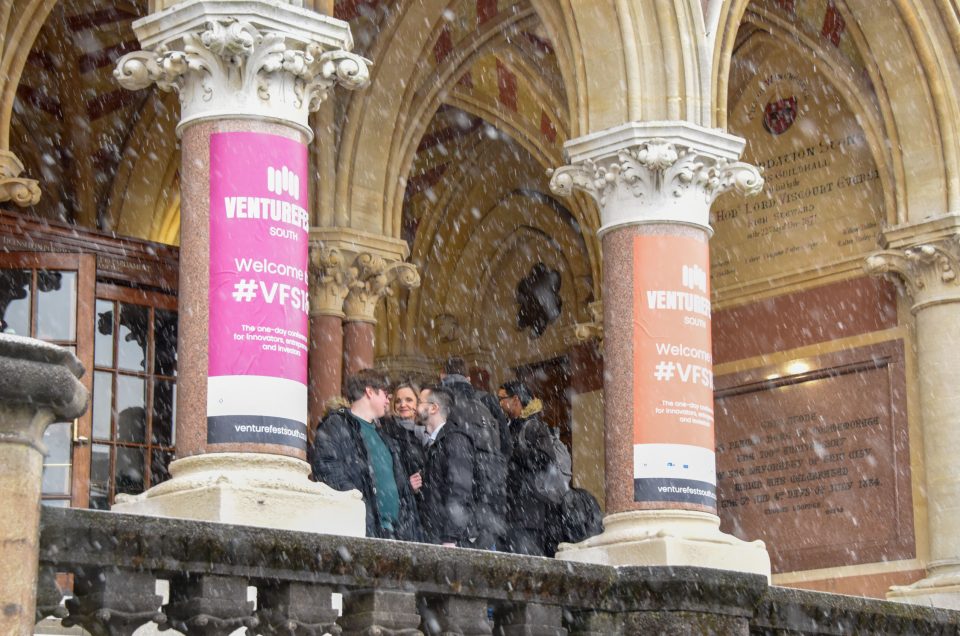 Today proved to me that weather can't beat innovation. Whether today's weather was a metaphor for the challenge that faces the UK economy post-Brexit or not, we were pleased to see that the intrepid, entrepreneurial spirit of Britain's innovators was alive and well.
While many stayed at home due to the biggest snowstorm Britain has seen in over eight years, over 500 innovators, investors and entrepreneurs from across the south did venture outside, to descend upon Winchester for our interactive one-day conference #VFS18.
#VFS18 was designed to be a celebration of the south's innovation economy. It is an interactive showcase which joins investors, entrepreneurs and innovators together in one space with the aim of creating opportunities, conversations and investments and, in turn, generating economic growth.
The Venturefest South movement has picked up momentum since the inaugural event last year. As we approached this year's conference, hundreds of tickets had been booked comprising of innovators, investors, entrepreneurs and all those involved in that eco-system that makes the South a great place to start and run an innovative or pioneering business.
So, you can imagine the growing panic as we realised that the biggest downfall of snow for years was about to hit us. Should we cancel?
Thankfully it was agreed that we would go ahead – the snow couldn't stop us. The decision proved to be a good one and it was a relief to see over 500 people arriving at Winchester Guildhall, engaging with one another over a hot coffee. It is precisely these sort of interactions that #VFS18 is all about. Our hope is always that the next big idea might come as a result of an introduction or conversation held at Venturefest South.
Great keynote
Opening the day was a fascinating and insightful keynote address from James Bruegger of Seraphim Capital. Seraphim Capital is the world's first space investment fund. It invests in businesses from the space ecosystem and has recently launched an accelerator programme called Seraphim Space Camp. James shared insight into the growth of the sector and highlighted what makes for a great investment. James also paid tribute to the South's Innovation Economy:
"I was delighted to be here to give the keynote address. It is a testimony to the event that so many people were here given the travel conditions. I was pleased to see the diversity of innovation across the entrepreneurial eco-system in the South is alive and well."

Innovators got a funded place
The Smith and Williamson Innovation Zone proved to be the heart of the action, with around 20 innovators showcasing their business ideas. A full-size racing seat and screen with a Top Gear 'star in a reasonably priced car' competition also helped added to the excitement.
Away from the games though, this is a key part of what Venturefest South is about – find and support great ideas with events, advice and a funded place to show off what they are doing to potential investors and support organisations. It's was great to see such a huge range of exciting opportunities on show. Smith & Williamson really contributed in an enormous way through their sponsorship and their expert talks. Paul Duckworth, a Partner at Smith & Williamson, commented:
"We work with a lot of entrepreneurs on a daily basis and that is why we got involved. Venturefest South is all about entrepreneurship and that is exactly what I have seen today; the collaboration of entrepreneurs."
 Open Mic
'Pitching for all' has become a large part of the Venturefest South ethos. The Open Mic competition was a big hit last year and aimed to open up participation on the day to everyone. It's a simple concept. Innovators run up, sign up on a whiteboard for one of the time slots and then get three minutes to pitch whatever they like to an audience and panel of judges. All the pitches are scored and at the end of the day the winner takes home bragging rights, plus the opportunity to pitch for investment.
This year's Open Mic competition winner was, rather appropriately given the havoc on public transport at present, a new app that allows commuters to log when their train is not running on time and then request a refund from the train provider. Railbuddy founder, James Zorab impressed the judges with his company's growth potential, simplicity and market opportunity. You can find out more here: http://www.railbuddy.co.uk/ – if you take the train a lot it's worth a look!
The Open Mic Arena gives you anything and everything. A complete melting pot of ideas, inventions and ambition. We're grateful to all those who participated for getting up on stage and pitching their business.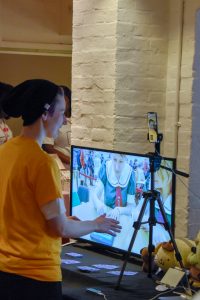 The young entrepreneurs
New to this year was the Young Entrepreneurs Village, which was buzzing throughout the day. We invited students from across the south's universities to come together and show off their ideas for businesses.
It was arranged so that Adrian Braine, Entrepreneur-in-Residence at the world's number one university incubator, SETsquared, could run a series of workshops within the village. They were designed to get the students to collaborate and explore ways to move their businesses forward. The guys in this zone brought with them a healthy dose of energy and ambition, not to mention some great ideas.
A special mention goes to Connell McLaughlin, Founder of Route Reports, who won the award for the 'Best Young Innovator'. After winning the award, Connell said:
"The day has been great. It's been excellent to meet lots of interesting contacts including investors, entrepreneurs and mentors. I would definitely recommend Venturefest South to anyone who has started a business or is thinking of starting a business."

Pitchfest at the Investment Zone
A big part of what we do at Venturefest South is find, help prepare and then present highly investable opportunities in Pitchfest. Pitchfest is a traditional investment showcase which this year, had a collective ask of around £10 million from 17 businesses that were pitching. This part of #VFS18 was put together by Richard May from Oxford Innovation and Alan Scrase from the SETsquared partnership based at the University of Southampton. The zone was also generously sponsored by University of Winchester Business School. Professor Pru Marriott, Dean of University of Winchester Business School said that:
"Innovation and entrepreneurship are important to the growth and survival of organisations but investment is often the limiting factor to success. Bringing universities, businesses and investors together for this one-day event offers exciting and valuable opportunities for all concerned. The University of Winchester Business School is pleased to sponsor Venturefest South 2018"

Great sharing of knowledge
Another new addition to this year's event was the Knowledge Zone, supported by Grant Thornton. The zone consisted of three rooms full of speakers from across the UK, offering delegates a vast range of talks to listen to. This covered topics from tax relief on R&D, grants for small business, how to use digital to general advice from entrepreneurs who have 'been there and got the t-shirt'.
Thanks go out to all of the speakers and a special mention to Matthew Desmier, who curated a great set of talks under the Silicon Beach brand. With speakers coming from across the county, it was inevitable that this would be the area most impacted by the weather, but some rapid re-planning meant speakers and delegates made the most of the day. Jo Stark from the University of Portsmouth was key to keeping this on-track and successful.
So as you can see, there was a lot happening and we managed to pack a lot into what became a slightly shortened day. As the day progressed the snow settled so we closed a little early to allow people to get home in good time.
It could have been very different, but thanks to the commitment of the partners and the level of interest from innovators, investors and entrepreneurs, #VFS18 was a huge success despite the snow.
From all of us here at Venturefest South, we'd like to thank the many people who braved tricky weather conditions to make the event a success. Innovation in the south shines brightly despite grey skies and inclement weather and next year we hope we can do even better in warmer climes.
If you are interested in Venturefest South, sign-up for updates. Throughout the year there will be a number of Rumble and partner events that are worth being a part of.
The event also would not have happened without the support and funding from the likes of:
Grant Thornton
The University of Winchester Business School
Nexus IE
Creative Networks South
The University of Portsmouth
Carswell Gould
Southampton Solent University
Southpoint Films
The University of Southampton
Dorset Growth Hub
Hampshire Conference Bureau
Enterprise M3 LEP
Solent LEP
Oxford Innovation
Southampton City Council
Portsmouth City Council
Innovate UK
Knowledge Transfer Network
Business South
Smith & Williamson
TrouDigital
We hope you had a great time and that we see you at another vent very soon. If you would like to tell us what you thought of the event please do get in touch.