INTRODUCING THE #VFS18 PITCHFEST FINALISTS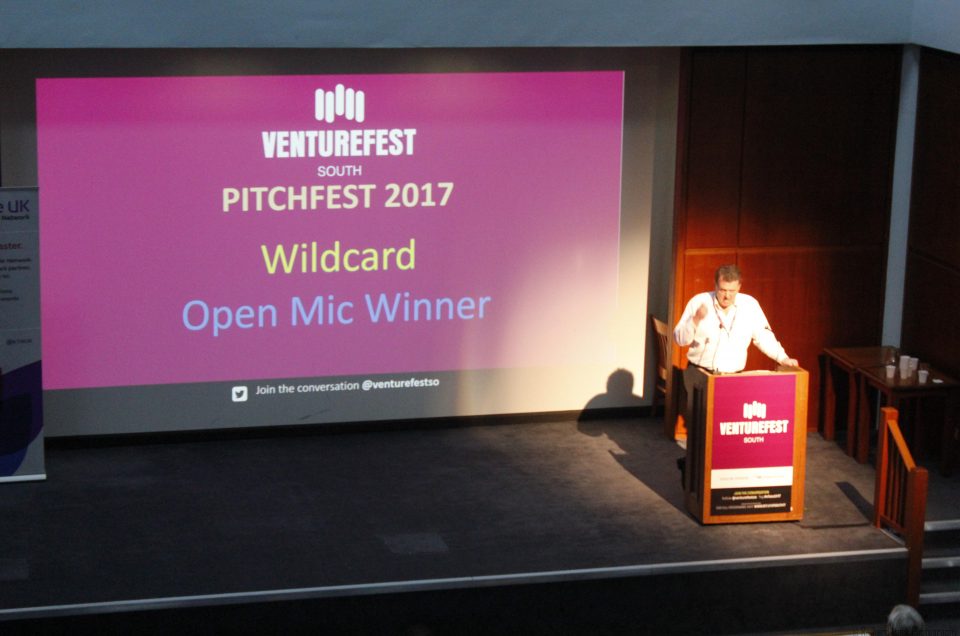 With so many amazing innovators in our region, it's no surprise we were heavily oversubscribed for Pitchfest 2018. 45 hopefuls applied to pitch and over the last two months, we've been working with them to develop their pitches. Our board of experts analysed the investment opportunities and have selected 18 of these brilliant innovations to pitch live on Thursday 1st March at #VFS18, for a total ask of almost £10 million.
FINALISTS PITCHING FOR INVESTMENT
From fashion retail apps, integrated robotic farming systems and homecare support platforms, to music artist connection apps, FinTechs and parking management platforms, there will be a huge variety of impressive innovators pitching.
See the full details of the 2018 finalists and runners-up on the Zone page.
Accelogress Limited
Accelogress Limited is an early-stage SME developing innovative solutions for Intelligent Integrated Transportation Systems. The company is working to bring to the market
'Sava-a-Space', its own cloud-based parking management platform. Accelogress Limited's solution allows parking providers across several market segments to offer customers the ability to reserve and pay for a parking space in advance, as part of their journey planning. Integration of real-time parking availability, live public transport information and updates within the free-to-use end-user app will help travellers to seamlessly plan, adapt and complete their journeys with minimum stress.
Investment ask: Year 1 – £250,000 Year 2 – £500,000
Website: www.accelogress.com
Be-IQ
Be-IQ is a FinTech (financial services technology) startup that delivers behavioural insights to financial institutions. The company provides next-generation risk-profiling based on the behaviours that most influence financial decision-making. Launched in summer 2016, Be-IQ won two National FinTech awards in 2017, signed one of the 'big four' high street banks and is currently negotiating opportunities in the US, Canada, Germany & the Netherlands as well as other major financial institutions in the UK.
Investment ask: £500,000
Website: https://beiq.co.uk/
Care Quest
Care Quest is a unique online service that matches patients with care providers based on their services, location and availability. Care Quest's bespoke system was set up as a direct response to the growing issue of patient care. The company felt there was a need for an easier, more effective way to deliver care services.
Investment ask: £250,000
Website: https://www.care-quest.co.uk/
Greenvalue
Greenvalue's aim is to accelerate the change businesses and the public sector must make to de-carbonise their organisations and be more sustainable. The company makes it easy for businesses to identify and prioritise green project opportunities, based on the value they return. Greenvalue connects customers to its network of client-rated, specialist partners who turn opportunities into results.
Investment ask: £150,000
Website: https://www.green-value.org/home
HOLM
HOLM is a B2B SaaS model for fashion retail. It is an app that accurately matches clothes to shoppers' body shapes, turning low skilled in-store assistants into highly effective personal stylists. It is creating a new level of customer service and data, set to revolutionise the fashion industry by changing the way people feel about themselves. It is imminently trialling in major UK high street retail.
Investment ask: £350,000
Website: https://www.myholm.com
Inovorobotics
Inovorobotics is addressing the need for flexible, easy to use and affordable robotic systems that can be used to automate a repetitive task in the lower volume manufacturing sector.
Investment ask: £650,000
Website: https://inovorobotics.com/
JobNpart
JobNpart is a hosted application designed for small and medium-sized garages. It provides garages with job scheduling, job management, parts procurement and customer billing.
Investment ask: £250,000
Website: https://jobnpart.com/
Kelda Technology
Two thirds of the world's population currently live in areas that experience water scarcity for at least one month a year. According to European Commission data, it was estimated that by 2007, at least 11 % of Europe's population and 17 % of its territory had been affected by water scarcity, putting the cost of droughts in Europe over the past thirty years at €100 billion.
Against a backdrop of global water scarcity and water stressed regions in every continent of the world, Kelda Technology is the pioneer of water in air shower systems that are independently proven to reduce energy consumption, carbon emissions and water consumption by 50% compared to traditional showers, without compromising user experience.
Investment ask: £1m
Website: https://keldatechnology.com
QBick
QBick is reimagining what it means to manage money and is focusing on the customer experience through this journey, showing them better financial visibility, their spending habits and their net worth, whilst showing them their credit rating to assist decisions. QBick believes that many of the underlying issues with money is down to the lack of financial education and so aims to educate people on how to manage their money. This lack of education results in a high percentage of the young adult population getting in debt, as they don't know how to do this.
Investment ask: £450,000
Website: http://www.qbick.com/
Renovos
Renovos is an orthopaedic regenerative medicine spinout from Southampton, offering the wider orthopaedic research community new research tools, otherwise unavailable in the market, to develop the next generation of medicines. The company also commercialises its novel therapeutic platform for safer, easier and more cost-effective bone repair.
Investment ask: £160,000
Website: http://renovos.co.uk/ 
Siteloop
Siteloop is a collaboration platform for the construction industry, helping teams work together to increase profitability by improving project delivery. Many things slow down delivery on construction projects. Teams run late causing a chain of delays to other trades. Incorrect information causes expensive remedial work. Problems like these can jeopardise profits and damage a company's reputation. Siteloop solves this by making the communication between teams fast and natural. When teams work well together, it unlocks huge efficiencies and significantly improves delivery quality and reputation. Siteloop acts as a catalyst for growth for construction companies by creating excellence in collaboration.
Investment ask: £350,000
Small Robot Company Ltd
The Small Robot Company is a group of farmers, engineers, scientists and service designers with a deep knowledge of farming, robotics, AI and service design. The company is dedicated to building technology that makes farming profitable, more efficient and more environmentally friendly.
Small Robot Company will deliver efficiency and productivity gains from an integrated robotic farming system including autonomous crop analysis, drilling (planting), feeding and weeding elements, replacing much of the work currently done by tractors. The business' system will be cheaper to operate, better for the environment and more accurate than the current system.
Investment ask: £ 710,000
Website: https://www.smallrobotcompany.com/
SpaceTime Enterprises
SpaceTime delivers real-time video and immersive experiences from space. Using the latest VR technology, the company's customers will be transported into space, in real-time, to experience Planet Earth from 600km above its surface. SpaceTime's initial business proposition is a B2C immersive technology experience, powered by real-time and retina-level resolution data from space.
Investment ask: £400,000
TrustonTap
TrustonTap is reinventing homecare and supporting older people to stay at home independently, with all the services they need on tap. The disruptive marketplace platform connects older people and their families directly with carers, avoiding the need for a care agency. It helps improve quality and reduces cost. The platform is fully functional and the number of carers and customers is growing weekly.
Investment ask: £400,000
Website: https://www.trustontap.com/
Transparently
Transparently is a legal tech start-up that simplifies negotiation and automates evidence gathering. transparently provides solicitors and barristers with a unique insight into their cases and individuals with the ability to receive proactive, real-time advice and support.
Investment ask: £400,000
Website: https://www.transparently.legal
Unify Dem
UNIFY DEM provides care homes with a digital assessment platform that enables the care home to either gain or maintain compliance with Care Quality Commission regulations, whilst reducing costs and improving the quality of life and safety of residents. The tool is accessed through an App on a tablet or via a website on a PC.
Investment ask: £250,000
Muebox
Muebox is a mobile application that connects music artists with their peers, empowering them to make music how, whenever and with whomever they want. Through Muebox, artists have a platform filled with creatives and soon IP management tools, that replace the need for an advance third-party royalty management. In addition to accessing creatives like photographers, music artists can access the likes of promoters and bloggers, making Muebox a catalyst for creativity while undermining the role of record labels as brokers and reducing their monopoly on IP.
Investment ask: £500,000
Website: http://www.muebox.com/
And, don't forget the Open Mic Arena winner…
We always leave one spot in Pitchfest for the best Open Mic Arena pitch of the day. This wildcard could be anything so make sure you check out the competition on the day to see who will win the last, highly sought-after Pitchfest spot.
For more information see Open Mic page.