Silicon South Open Accelerator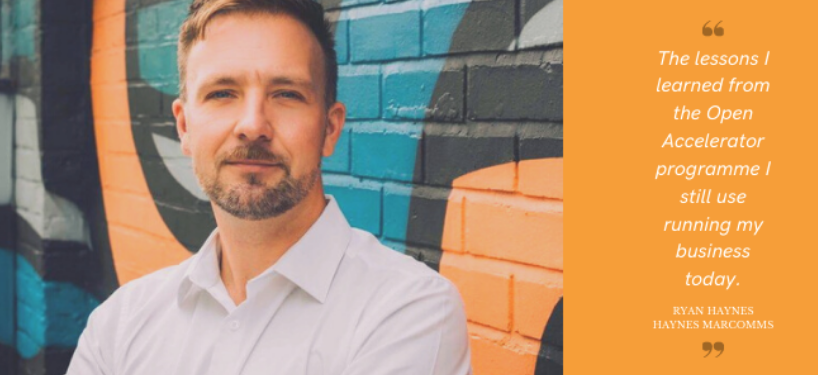 Open Accelerator – An interview with former attendee, Ryan Haynes
As part of the exciting launch of the Silicon South Open Accelerator program, we sat down (virtually, of course) with Ryan Haynes, Founder of Haynes Marcoms, a former attendee of the program to gather his experience and recommendations for this years applicants thinking about signing up.
Silicon South: Tell us a bit about you and your business?
Ryan Haynes:
When I started the program, my business was in a very different position than it is now. My business today, Haynes Marcoms, is a specialist technology and travel marketing communications agency providing strategic support, offering marketing services which includes; public relations, media liaison, content production and campaign development and deployment.
Silicon South: What made you join the Open Accelerator? 
Ryan Haynes:
I just set up a business, it was a couple of years ago when I heard about Silicon South and discovered that they had this accelerator program and I thought it would be a good opportunity to meet other businesses and business people who had experience in running a business and success in doing so. One particular reason for working with Silicon South was because of the location, which supported my objective of developing a regional marketing services company. It was also a great opportunity to hear from other local organisations in the area that had formed their company and grew their network and connections. Furthermore, getting an insight into how businesses operate outside of the London area in an International context in regards to other aspects of business that I don't necessarily give as much attention to for example Finance, Legal and Technology Infrastructure.
Silicon South: Did you always know you wanted to start up your own company?
Ryan Haynes:
This is the third business that I've set up now, so yes I've always wanted to run my own business and to build something that I am proud of. I think the most challenging aspect is to identify what that business looks like, how it is going to work for me and the customer. Entrepreneurial spirit has always been inside of me, and when I thought about where to best direct that, it was certainly within setting up my own company rather than trying to use that working within another company.
Silicon South: How do you feel the Open Accelerator impacted your business? 
Ryan Haynes:
I think the main thing is that you realise that behind these businesses, people who set up these companies, they are all humans and they are real people, who had their own challenges and difficulties when they were starting out. It helped by putting yourself in their shoes a little bit more and realise you don't have to have all the answers.
What was made clear to me was, it's all about finding your way to tackle challenges and using the people around you to make it happen and ask those difficult questions. Also, the opportunity to either find mentors or similar like-minded people who you could lean on for advice. From that perspective, the acceleration programme gave me quite quickly a network of people that I could turn to as I was setting up the business to get an idea on how they have done things.
A simple example would be Mark from 'You Are The Media', who gave me contacts for accountants and tips into how he managed his finances from the beginning. Another connection was from Insightful UX, learning how they built up their team and developed the business. Essentially it was useful for understanding different businesses' thought processes in different situations to give you inspiration and offering alternative ways of thinking.
Silicon South: What would be your top recommendations to someone looking to apply to the Open Accelerator programme this year? 
Ryan Haynes:
Firstly, you have to ask yourself the question of why do I want to be part of this and what do I want to get out of it. For instance, you must take with you three key questions or three objectives you want to achieve to help start your business. Without having objectives, in anything, whether it be a business plan, networking or speaking to someone, what do you want to get from them and being quite clear and transparent with them as to what you're trying to get.
I always went in very frank by saying, this is my situation, this is what I know about you, I want to learn more and these are the things you can help me with. From there, it's all about seeing what you get from those conversations. I think if you don't commit to signing up, you'll never get those answers, or if you do, you won't know how to put them into practice. So really, I'd recommend going into the programme having a minimum of three things you want to achieve.
Silicon South: What's it been like growing your business since finishing the Open Accelerator?  
Ryan Haynes:
I was part of the accelerator program till last summer, and the reason being was the business was taking off a year ago. I was still using a lot of those key learnings from the programme in my business. I had no room for learning more, and I think sometimes you need a cut off point to say, right, I've learned a great deal now, it's time to go put it into practice before I come back and learn some more. That was incredibly good until the lockdown and I think that now there is a whole new load of issues and challenges that need to be addressed, and through the Directors group it is allowing us to explore some of those concerns that we're currently facing.
So, the accelerator programme put me in a good position for setting up the business and implementing my initial business plan. It has massively grown my contacts that as and when I see something arise, that I may need someone with more experience than I do, I can go to them and ask those specific questions.
——————————————————————————————————————————-
For more information on the Open Accelerator program, you can visit our website here, where you can get information such as, the modules and lessons you will receive over the 10 weeks and the application form. The program is starting on Wednesday 14th September 2020, so make sure you sign up soon.