Venturefest South – 10 Great Outcomes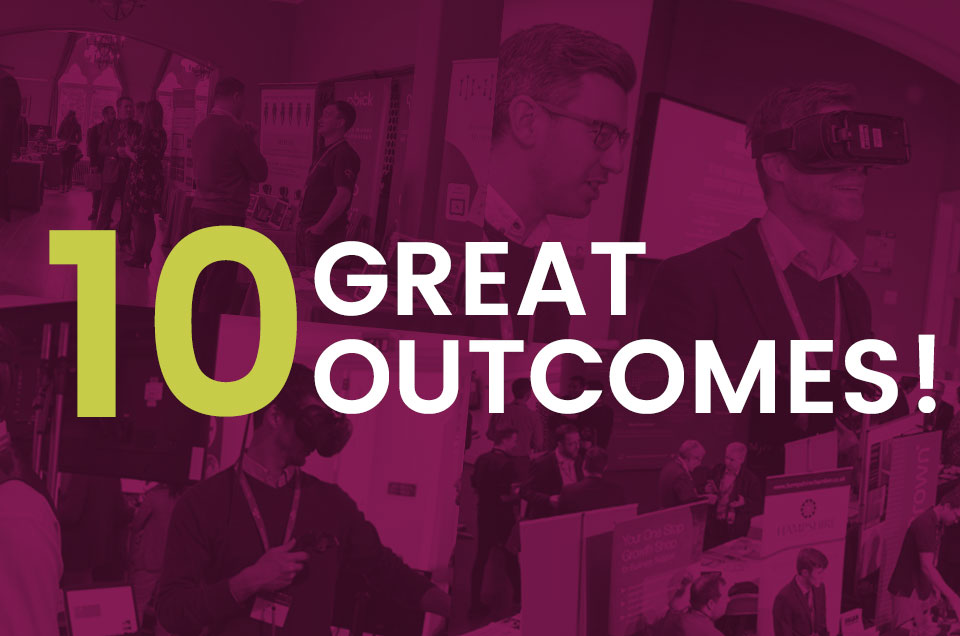 Venturefest South organise a one day, not-for-profit event to bring together innovators, entrepreneurs and investors. Last year, despite the UK's biggest snowstorm for eight years, over 500 people visited the Hampshire-based event. Thirty-five investment pitches took place asking for a combined total of over £10 million. In attendance were 20 young entrepreneurs, 40 organisations offering practical advice and business guidance, and 20 speakers from across the UK giving invaluable tips on running a business.
Future Worlds entrepreneur, Connell McLaughlin voted 'Best Young Innovator' at Venturefest South 2018.
Connell Mclaughlin was a first-year Aeronautics and Astronautics student at University of Southampton when he pitched his new application, Route Reports, to several investors. The creation is an embedded sensor system and web-based dashboard that detects hazards such as potholes and overhanging branches so public transport providers can divert their route. After Connell pitched his idea, four investors (including a surprise phone offer towards the end of the day) pledged £100,000 each towards his business. He started his business at 16 years old as a school engineering project. Connell came to #VFS18 to meet new potential partners and to outline where he had got to. He had a stand in the Young Entrepreneurs Zone and also pitched at the Open Mic event.
Railbuddy was featured as one of Apple Store's Best New Apps.
It was the winning pitch at 2018's Open Mic Arena. Railbuddy is an app that tells users when they are owed a compensation claim from train delays, and also helps people submit their claim in seconds. It was also featured in an article, 'The best apps for rail passengers', on Railway Technology where Trainline UK was also listed among the contenders. Railbuddy founder, James Zorab impressed the judges with his company's growth potential, simplicity and market opportunity. You can find out more here: http://www.railbuddy.co.uk/ – if you take the train a lot it's worth a look!
TrustonTap, a service where older people can connect with carers directly, pitched at Venturefest 2017 and ended up being overfunded.
It was one of 18 startups pitching its services and products to a multitude of investors. TrustonTap and the other 17 entrepreneurs asked for a combined funding of £26 million to build their company. After the pitch, it was approached by several investors and found itself so overwhelmed with offers that the team realised it had been overfunded. The service saves money for older people when it comes to paying for their care. It also handpicks the carers and users are able to choose which carer they would like to look after them. TrustonTap's services now cover all areas of Oxfordshire and work with both Oxfordshire and Buckinghamshire County Council to support people in need of care at home.
The amount of innovators that pitched in 2018 almost doubled from the previous year.
At the 2017 event, 34 entrepreneurs showcased their cutting-edge ideas and technology. Last year that number had almost doubled, with more than 60 innovators exhibiting their company designs. There is hope that this number will increase further at the 2019 event in March.
TrouDigital, a digital signage company, partnered with Moxhams to create innovative video wall designs for Laing Jewellers.
TrouDigital visited the 2017 event promoting its vision to provide professional digital signs to education, retail, and corporate sectors in the UK. After the event, it made a number of valuable connections. One of which was Moxhams, an audio-visual company. Together they have led a number of projects, one being a digital video wall at Laing Jewellers. TrouDigital has even installed a permanent signage system at Winchester Guildhall, the venue for Venturefest South in 2018. It has made this technology so it's available to business from small nurseries to large universities, as previously digital signage was mostly reserved for larger companies with big budgets.
The Small Robot Company, which improves the quality of farming, agreed to a three year trial for a supermarket chain.
Speaking at the 2018 event, this agri-startup promoted one important thing – small robots, not big tractors. It found that robotic plant care is "kinder to soil, kinder to the environment, is more efficient, more precise and more productive." The robots, nicknamed Tom, Dick and Harry, are now being tested out in a three year trial at Waitrose Farm in Hampshire.
Intro, an app which helps new people stay connected without the hassle of finding them on social media, launched on both Apple and Android App Stores.
2017's Open Mic runners-up launched an app called Intro that removes the barriers when forming new relationships. When two people first meet, straight away they want to stay connected, which means fumbling through social media to find their profile. The app allows users to share all your social links just by holding your phone near to the other persons phone. Both parties will need to have the Intro app in order for it to work.
Seraphim Capital was the keynote speaker in 2018.
Seraphim Capital is the world's first venture fund dedicated to financing the growth of companies operating in the Space ecosystem. James Bruegger, Managing Partner Seraphim Space Tech Fund, shared the exciting innovations that are happening within space tech. It invests in businesses from the space ecosystem and has recently launched an accelerator programme called Seraphim Space Camp. James shared insight into the growth of the sector and highlighted what makes for a great investment. James also paid tribute to the South's Innovation Economy: "I was delighted to be here to give the keynote address. It is a testimony to the event that so many people were here given the travel conditions. I was pleased to see the diversity of innovation across the entrepreneurial ecosystem in the South is alive and well."
Fred Jones shared Uber's plans for world domination.
Uber's Head of New Mobility, Fred Jones, shared the company's story and what Uber's vision for the future of transport looks like. This was also the first time we had heard about Uber's new 'Ride Share' scheme in Southampton.
 When the Clangers came to visit in 2018.
Two of the characters from the 70's children's show visited the Venturefest South event, wandering around all the stalls and taking pictures with all the visitors. We're not sure why they were there, but they definitely put a smile on everyone's faces!
So, what have we got in store for you at #VFS19?
This year, it's bigger and better and we look forward to welcoming delegates from across the south. We have lots of exciting sponsors and partners this year including Lenovo, DTSL , Natwest, Innovate UK, BDO, Portsmouth City Council, Silicon South and many more. There's so many innovation and investment opportunities for delegates so why not book your tickets now!
Tickets for #VFS19 are available here.