Venturefest South seeks candidates for new board members and Chair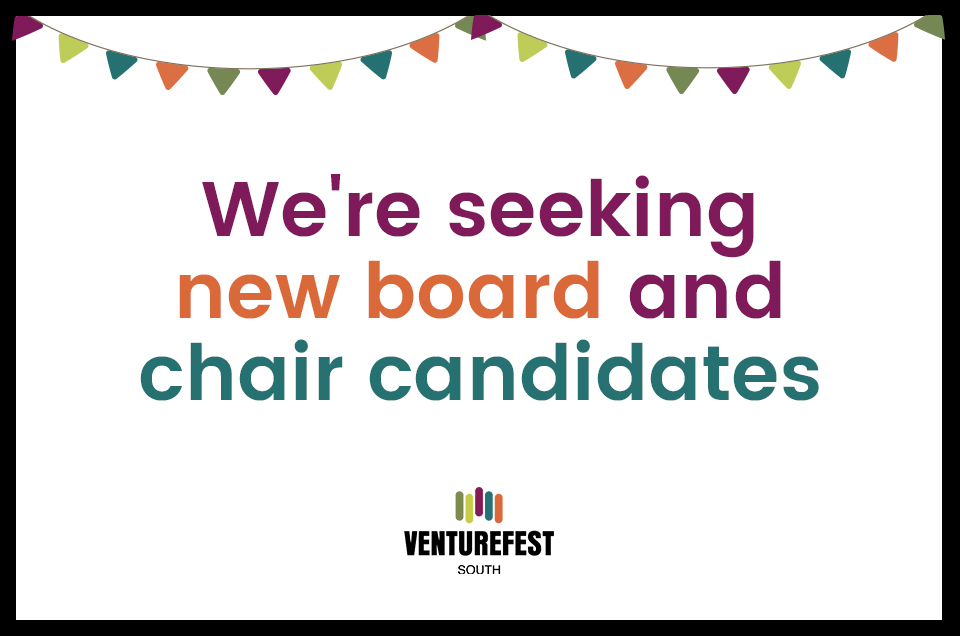 Venturefest South (VFS) is seeking candidates for new board members and a new high-profile Chair for its award-winning showcase, when the founding chair retires following the March 2020 Showcase. 
Venturefest South is a not for profit initiative, made up of people, organisations and businesses who recognise the innate value of engaging with, and investing in, the South's innovation and entrepreneurial ecosystem.
The VFS pilot event was first run in March 2017 and has now become a major annual Festival of Innovation, which is focussed on accelerating, and evidencing the translation of business ideas into increased economic growth by strengthening connectivity between innovators, investors and entrepreneurs. To help carry on the success of VFS, we are now seeking candidates for new board members and a new chair.
The role of the chair is to:
Chair the VFS Board which sets the strategy for VFS; supports the event delivery team and ensures good governance (4 meetings per year)

Represent the VFS partners at the annual event and throughout the year

Supports the delivery team with guidance and decision making (a few hours a month) to ensure that:

VFS celebrates all that is great about our innovation ecosystem and promotes the people, businesses, organisations and ideas that make it tick

VFS drives and champions the innovation agenda for the region including promoting events and information of value to our key audiences

Brings public and private sector together into a close-knit partnership
This is a high-profile role, and the new chair will ideally be a business leader in the south with a passion for innovation and economic growth. They will be committed to maintain the energy, flexibility and can-do approach that has become the VFS trademark. The chair's key role is to ensure that the VFS Board match the energy of the VFS delivery team and the VFS audience.
The current VFS board of Influence is made up of a unique mix of representatives from the following organisations which help fund and direct the activity:
Basingstoke and Deane Borough Council

Defence Science and Technology Laboratory

Fareham College

BAE Systems

Portsmouth City Council

Solent Local Enterprise Partnership

Solent University

Southampton City Council

University of Portsmouth

University of Southampton
To express your interest, please email the current Chair and Programme Director Ed Gould, by emailing engage@carswellgould.co.uk