#VFS20 Festival of Innovation registration is open!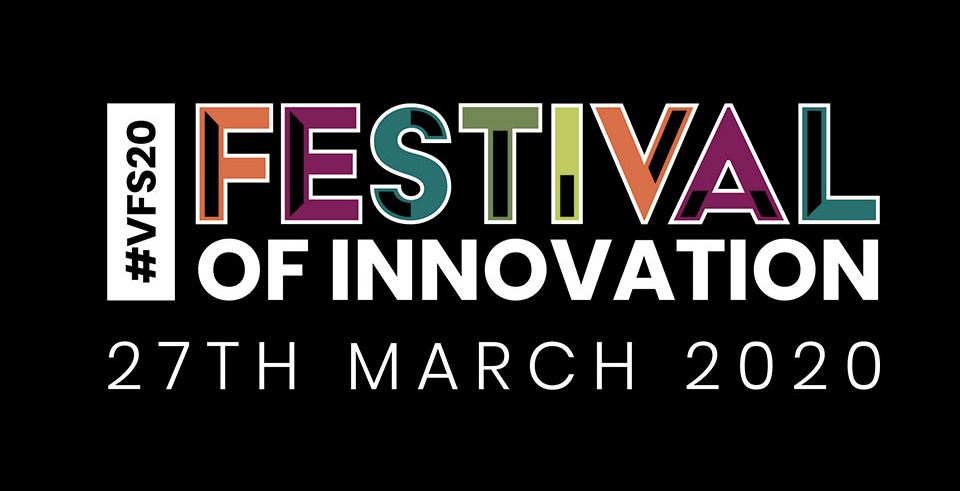 Venturefest South is pleased to announce that registration is open for its March 2020 event!
We will see the biggest celebration of the South's innovation ecosystem at #VFS20 Festival of Innovation on 27 March. Building onto the snowballing success of the Festival over the last three years', more than ever will be packed into the showcase – and that's where you come in.
We invite the region's innovators, entrepreneurs, investors and businesses to come together in one place on one day to celebrate our incredible innovation ecosystem, showcase the latest technology, share thinking and explore new ideas.
What is #VFS20 Festival of Innovation? 
#VFS20 Festival of Innovation is a one day interactive celebration of the regions innovation ecosystem. The day will include;
60+ of the best innovators from the region

Open mic pitching competition 

Talks and knowledge share

Workshops and interactive learning sessions

Unique networking with the people that matter most 

The VFS awards to recognise the best in innovation entrepreneurship and sustainability 
Last years showcase was a huge success and saw 1000+ people at the Ageas Bowl in Hampshire to meet, share, collaborate, fund, pitch, learn and enjoy time well spent. 
Who is the #VFS20 Festival of Innovation for?
Early stage innovators and entrepreneurs looking to launch fund and support their ideas 

Established businesses with innovative propositions with the ambition to scale and grow

Large scale anchor organisations looking to innovate and develop
Why would I want to go to it?
Grab a ticket if you want to engage with the innovation ecosystem and create new opportunities for yourself and the region.  All delegates will be helping to fund the continual promotion of the innovation ecosystem. You'll have a great time but don't just take our word for it….
" #VFS19 was the best event I've ever been to and I go to a lot! I loved the open mic pitches, it was so good to hear from people and to give them the chance to hone their pitching skills – it was great fun for the participants and the audience alike."
Justine Taylor-Knightbridge 
Commercial Partnerships Manager Solent University Southampton 
Get your tickets today
Tickets for the showcase are on sale now and standard admission is £30, For those early adopters among you who know a great deal when they see it, be sure to book by 31 Dec 2019 to receive your early bird ticket that saves you 66% off the price, you might even be lucky enough to have been to one of our many rumble events. If you did and you wrote the rumble code down you can use it during booking to claim free tickets.
Head to eventbrite and register now
Claim your innovator  and entrepreneur spot at #VFS20
In the last three years VFS has showcased hundreds of innovators from across the south. We do it to offer the region's most ambitious, creative and innovative entrepreneurs the opportunity to promote their ideas and  to meet people who can help support, fund and develop their proposition.
And we do it for free!
The money raised from sponsorship and exhibitors funds zero cost stands and promotional opportunities for innovators at all scale and stage of business.  
Register your interest for your spot today – we especially want to hear from you if you:
Have a new innovation you are trying to get off the ground and launch

Have an established innovation proposition that you want to scale or tell people about 

Have a super successful product or service you want to take to the next level 

Are a big business with a sustainable or entrepreneurial idea, product or service 

Have an innovative 'outdoor' product or service (vehicles, agri, leisure, sustainability, built environment etc)
There are 60 spots up for grabs and they will go fast – to apply just fill out the form online by December the 15th. 
You can present and speak at #VFS20 Festival of Innovation.
The #VFS20 Festival of Innovation will showcase all that is great about the region's innovation and entrepreneurial ecosystem. A huge part of our approach on the day is to bring interesting people together in interesting ways. Once such way is our open format to speakers and presenters and we are inviting applications from people who have something to share with our 1000+ audience.
We are keen to hear from you if you have content that complements the VFS agenda and aims. Have a think. To inspire you here are a few ideas of what our delegates say they are interested in…
Innovation rags to riches success stories
You've been there and done that and now can share your story and experience (warts and all) to inspire, inform and entertain others.
Workshops to develop delegates
Interactive sessions that help our audience develop thinking, understand approaches, access funding, learn new skills, build their own plans for growth.
Expert knowledge for the cutting edge
Expert led best practice and detailed talks about technologies and ideas that are driving forward challenge or enhancing society e.g. sustainability, the grand challenges , SDGs, AI and robotics, health, culture and funding.
Invitations to collaborate and innovate
Prime and anchor organisation launches or calls for innovation, supply chain support and collaboration opportunities for SMEs and innovators.
Applying is easy just register your interest on the website and we will get in touch
Sponsors, exhibitors and partner opportunities
Venturefest South and the #VFS20 Festival of Innovation is funded for and by the innovation ecosystem. Its aim is to bring interesting people together in interesting ways. We promote and nurture the region as a great place to have and to develop ideas.  We can do it with funding from people like you and me.
Find out more now and register your interest – we will then give you access to the engage pack which is full of ideas and options for partners, sponsors and exhibitors.