There's just three weeks to go and over £90m of opportunities at #VFS19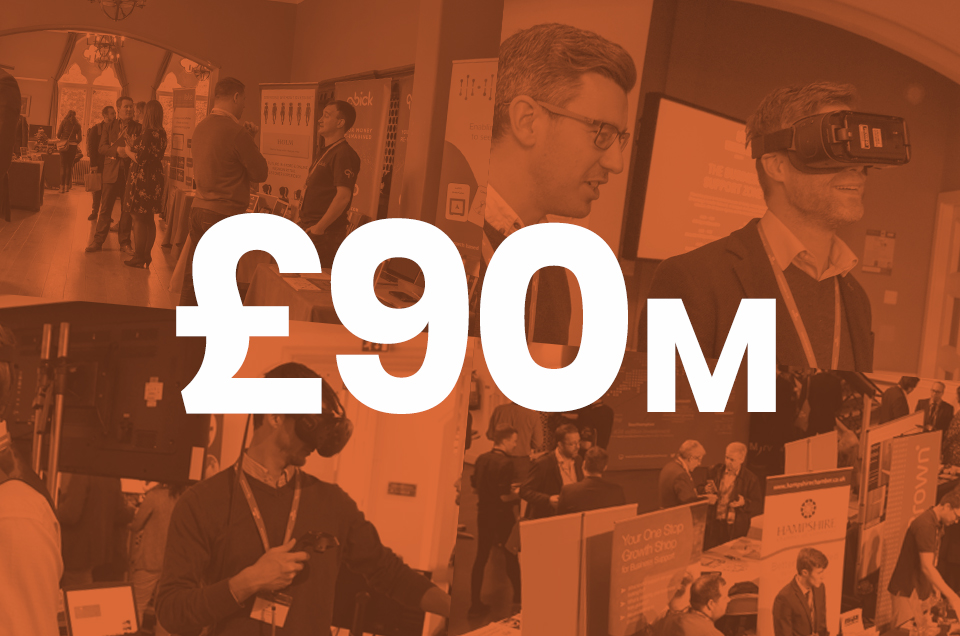 There's over £90m of opportunities available at Venturefest South this year. This includes the incredible £45m fund from Defence Science and Technology Laboratory (DSTL) and there's also over £50m of investment opportunities, which have been created by our innovators.
Over £50m of investment opportunities come from Venturefest South innovators and entrepreneurs, including People Space, Holm and Launch International, all of whom will be exhibiting at the event. These fantastic investment opportunities range from £25,000 to £20m.
Venturefest South 2019 has a packed schedule with talks on a variety of topics covering all things innovation, business and funding. Highlights include Jacqui Murray on what it is like to be a woman in the current business landscape and Ed Hobson talking about the 'innovation canvas'. You can view the full schedule here.
If you're looking for an example of just how effective #VFS19 can be then take a look at the experience Connell McLaughlin had last year.
Then a first-year Aeronautics and Astronautics student at the University of Southampton, he pitched his new application, Route Reports, to several investors. Four investors each pledged £100,000 towards his business.
Connell added: "I had a stand in the Young Entrepreneurs Zone and pitched at the Open Mic event. Venturefest South was great and since then Route Reports has gone from strength to strength – the company is now based in San Francisco with a valuation of $2 million. Venturefest South was a really useful event for both pitching and making contacts and I urge anyone with an innovative product, service or even an idea to attend the event, you can't help but be inspired to do great things."
#VFS19 sponsor, Dstl has pledged an additional fund of £45m to small and medium enterprises in the science and technology sectors. The organisation is seeking supply chain partners for a series of research projects across the defence spectrum due to start this year.
Chris Allington, Chair of Venturefest South said: "Venturefest South's importance has consistently grown year on year to become known as a major driving force behind the region's innovation economy. This announcement of the £40m fund from Dstl represents a major addition to the already substantial range of existing opportunities available for innovators and investors at the event. We believe the best deals being done on 29 March will be at Venturefest South."
There are fantastic opportunities for everyone attending, and we're sure that the best deals being done on the 29th March will be at Venturefest South 2019.
We look forward to seeing you there!