Barclays has been appointed to manage the Network Eagle Lab, Southampton's new co-working space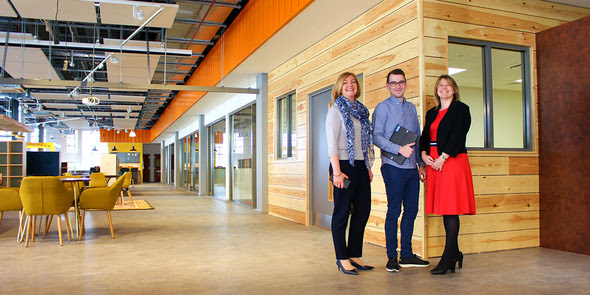 Venturefest South Partner, Southampton City Council is pleased to announce that Barclays has been appointed to manage the Network Eagle Lab, Southampton's unique new co-working space at the Marlands shopping centre.
The location will be run by the bank's Eagle Labs team, a group with a track record of helping entrepreneurs and businesses grow and scale in their local communities and beyond. Network Eagle Lab marks the first collaboration between Barclays Eagle Labs and local authority. The UK network of Labs offer a wide variety of benefits to their members, including opportunities to connect with like-minded entrepreneurs, industry bodies, potential clients and investors, and will help to further strengthen Southampton's established position in the digital sector. Barclays has more than 20 Eagle Labs in cities throughout the UK.
With cutting edge facilities, including a photographic studio and maker space, Network will support creative, digital and knowledge-based start-ups and scale-ups by delivering the city's first collaborative, co-working environment. The re-purposed 12500 sq ft retail storage space on the second floor of the Marlands shopping centre has now been handed over to the Council by interior fit-out contractors Concept. The development has already attracted a huge level of interest from potential tenants, providing them with a city centre environment, flexible memberships, and amenities such as a bike store and shower facilities.
"There's a network of Eagle Labs throughout the UK offering bespoke, collaborative environments for entrepreneurs in the digital and knowledge-based industries. Having Barclays Eagles Labs managing the Network co-working space makes very real sense for those who will be utilising this incredible venue.

"Co-working environments are well established in cities such as London and Manchester and it was imperative that we provided a fit for purpose flexible space in order for this growth industry sector to continue to thrive in Southampton. Network and Barclays Eagle Labs will deliver exactly that."
Councillor Christopher Hammond, Leader of Southampton City Council
"We're proud to have entered into our first partnership with a local authority in Southampton, a city known for its digital innovation. We'll bring our Eagle Labs philosophy to the Network Eagle Lab, helping to provide start-ups and scale-ups a home and fostering the connections to help them grow.

"In addition, the space aligns with our belief that city-centre locations can and should be used creatively to become new hubs for the communities they serve. We're excited to be part of the growth story here, and to partner with Southampton City Council to provide continued support to what is an already-thriving sector in the city."
Caroline Burley, Head of SME for the South Coast, Sussex and Surrey, Barclays
If you are interested in visiting or finding out more come and chat to the team who will be exhibiting at #VFS19