British Business Bank has been announced as a sponsor of #VFS21: Festival of Innovation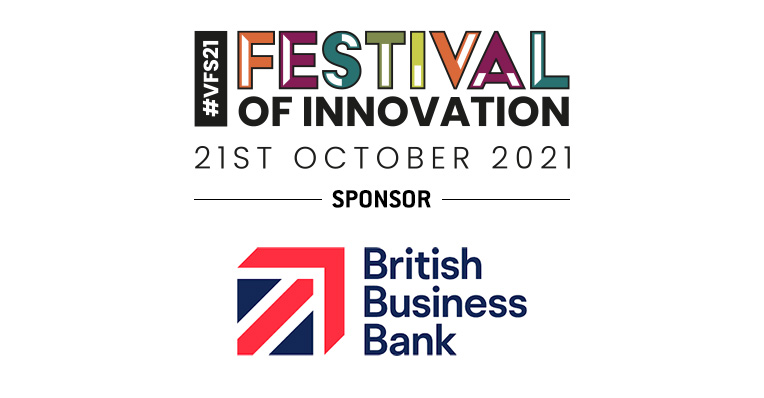 The British Business Bank is the UK's economic development bank, dedicated to making finance markets work better for smaller businesses. The Bank works with more than 180 delivery partners to deliver funding programmes that address existing gaps in the market.
Innovators, entrepreneurs, investors, and business leaders will have the opportunity to meet with and find out more about the British Business Bank at their stand at #VFS21 on Thursday 21 October at the Ageas Bowl, Southampton.
The Venturefest South programme is a not-for-profit partnership that sees the region's leading organisations fund, drive and fuel a programme of activity designed to shine a light on the South's innovation economy – you can find out who funds the programme and why here.
The exciting one-day festival has a jam-packed schedule including Innovation Talks, featuring a wide range of inspirational speakers who will share their experiences, knowledge and give their unique insight into driving innovation, entrepreneurship and business growth.
Some of the South's most dynamic business contenders will compete in the Battle of the Open Mic, impressing the audience with their ideas, innovation and businesses in a bid to win the top place.
The Open Mic Pitching champion will be among the best of the South's innovation talent at the #VFS21 Festival of Innovation Awards at the end of the day. Other awards will go to Innovator of the Year; Early Stage Innovator Award and Sustainable Innovation Leader.
Susan Elliott, Senior Manager, UK Network (South East), British Business Bank said: "We are delighted to be supporting #VFS21 Festival of Innovation this year, especially after the tough economic challenges faced by smaller businesses throughout the coronavirus pandemic.
"We are really looking forward to meeting the event attendees and helping smaller businesses looking to access the finance they need to succeed, whatever their stage of development.
Ed Gould, Creative Director at Carswell Gould and #VFS21 event organiser said: "It's great to have the British Business Bank backing Venturefest South's showcase event as a sponsor.
"It will give fledgling businesses and entrepreneurs the opportunity to find the right financial solutions to help them grow and drive future innovation in the South."
Book tickets for #VFS21: Festival of Innovation here.
Find out more about the British Business Bank at https://www.british-business-bank.co.uk/