HUNDREDS ATTEND VENTUREFEST SOUTH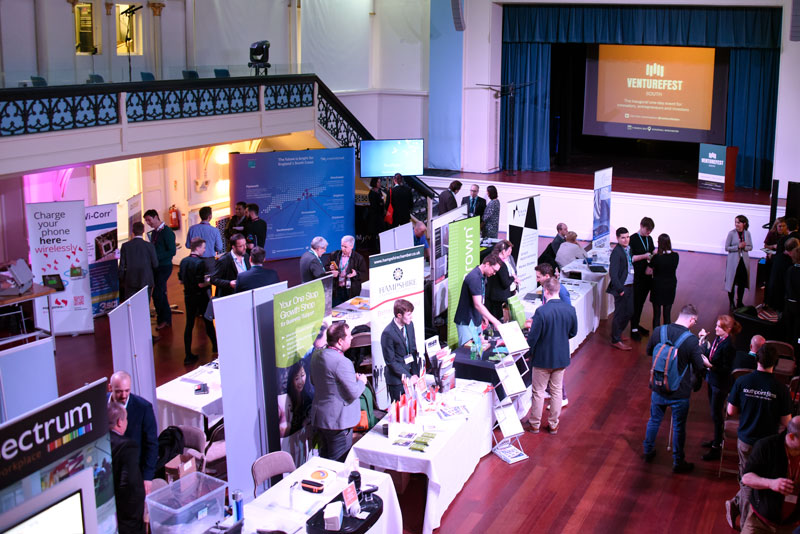 The inaugural Venturefest South event aimed to bring together these innovators, entrepreneurs and investors to demonstrate tech innovations, pitch for funding and discuss ideas collaboratively to shape business growth in the region.
• 900 sign-ups to organisation and over 500 attendees to event
• Keynotes from the likes of Uber and Innovate UK
• 34 innovators showcasing bleeding-edge ideas and tech
• 15 open mic pitch participants, resulting in one winner of a huge business support package
• 18 high-level pitches for a cumulative funding ask of £26m
• Innovations and exhibitions including a racecar, drones and established businesses in the region
• 18 seminars from leading experts
Over the course of the day, 34 innovators showcased their products and services, ranging from a smart power socket to allow elderly people to live independently for longer, to a game that teaches children about online safety, to a start-up that improved digital connectivity in countries and communities without the internet.
Trevor Linn, innovator and CEO of Turbulent Design, which designs simulation software for marine and aviation training, said: "Venturefest South is the first event like this we have exhibited at. We brought our team down and it has been very successful. We had a very good response and a lot of good opportunities. There are companies here we have wanted to speak to for six or seven months."
An open mic pitching zone saw 15 early-stage innovators pitch their ideas to a panel of judges to receive feedback and scores on their idea, presentation, and growth potential. At the end of the day, the scores were added up and healthcare innovator YOURmeds won a business support package that includes virtual incubation services courtesy of Oxford Innovation, marketing consultancy from Carswell Gould, a strategic advisory session donated by Grant Thornton, and half a day of support and advice for sustainable innovation from Southampton Solent University and Innovate UK.
In addition to this, YOURmeds won the chance to pitch to investors in Venturefest South's Funding Zone, along with 17 other entrepreneurs looking for a combined £26m funding for their businesses.
Lee Sharma, CEO of Simply Do Ideas, has developed a cloud-based idea management platform that empowers individuals and organisations to capture, test, develop and pitch early-stage business ideas. He said: "The business idea came from personal frustration of seeing the amount of fantastic ideas being presented to me when I was working at a university. I could see there was a need for something simpler between the raw idea and the business plan – so we decided to create the technology for that gap.

"Venturefest South was amazing – we had fantastic conversations with investors, potential customers and people we can collaborate with."
Speakers from Uber, Innovate UK and Innovation People delivered keynotes, which inspired attendees with stories of disruptive business models and building the right team for your business.
Venturefest South is part of the wider network of Venturefest events nationally, but is the first to run without any funding from the government. Instead, the event was dreamt up and staged by seven founding partners: the University of Portsmouth, the University of Southampton, Southampton Solent University, Carswell Gould, Oxford Innovation, Solent LEP, Enterprise M3 LEP, as well as with support from Innovate UK and event management by Business South.
Speaking at the event, Chris Allington, MD at Oxford Innovation and Chair of Venturefest South, said: "The depth of and quality of the ideas that exist in the south is just incredible, and today we've seen them brought together in one place.
"I was privileged to announce today we're going to do it all again next year, and there will be a whole load of events going on between now and then as Veturefest South is so important to our economy.

"Once upon a time, I was told we're a nation of shopkeepers. Our shopkeepers have now become some of the best entrepreneurs and innovators in the world! We need to create the environment and support structures to help those companies to grow, and that's what Venturefest South is about."

Ed Gould, creative director at Carswell Gould, said: "Venturefest South smashed all expectations. With very little support, we were able to attract 900 people to the organisation and over 500 to the event – which just shows the appetite from innovators, entrepreneurs and investors to develop and grow businesses in the region."