Portsmouth innovators take Venturefest South by storm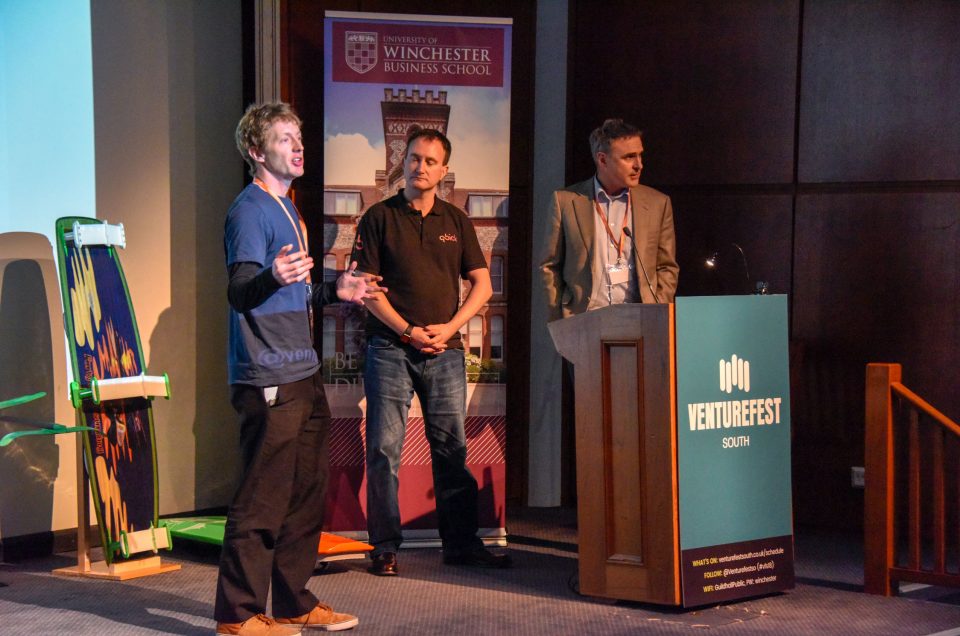 While snow blanketed the world outside on 1st March, Winchester Guildhall was abuzz with excitement and energy as Portsmouth-based companies and young entrepreneurs braved the elements to showcase their innovations, alongside over 500 intrepid innovators, entrepreneurs and investors who made their way to Venturefest South 2018.
With a programme including the hottest new young entrepreneurs, innovator showcase, pitching for investment, the open mic competition, a keynote address from Seraphim Capital, knowledge and support seminars from a variety of organisations and an opportunity to meet the Innovate UK family, there was plenty on offer at VFS18 for those who ventured out.
"While the rest of the country seemed to grind to a halt, a window of opportunity held open while myself and hundreds of other local innovators and entrepreneurs made their way to Venturefest South. Hearing other people who are every bit as passionate about their technologies was inspiring" explains Selwyn Lloyd, CEO of Phosphorix Impact Adventures, who was especially impressed by the incredible turnout despite the 'Beast from the East'.
Sarah Duckering, Director of Research and Innovation Services at the University of Portsmouth, said: "The University of Portsmouth is proud to be a Founding Partner in Venturefest South, as working with exciting and innovative companies to boost the local economy and enabling them to grow is a core part of our mission."
Portsmouth City Council is also a Partner in delivering Venturefest South. Council Leader, Cllr Donna Jones, said: "This event was a great example of regional partnership working across the public sector, academia and support organisations to drive forward innovation. I'm proud that Portsmouth-based businesses have been able to bring along their innovative ideas, build them into effective and successful propositions and then pitch them to investors. Events like Venturefest South are a great opportunity to celebrate our successful innovative businesses."
More than 60 innovators were able to showcase their ideas and explore opportunities at VFS18, including The Cato Bot Company, which took the opportunity to participate in the Open Mic competition. Nikolaos Maniatis, Managing Director of The Cato Bot Company, commented: "Open Mic was a great opportunity to present my business and get immediate constructive feedback from the panel and audience. I left VFS18 with plenty of useful contacts and opportunities to follow up."
Also exhibiting in the Innovation Zone were local companies TYSOM Ltd, Forty1 Kitesurfing and KnowNow Information.  Chris Cooper, Director of Know Now Information and partner in Entelligently, made the most of the opportunity to network at VFS. He said: "The most ironic new connection we made at VFS18 was our next-door neighbour. They were showcasing a VR tech solution which is really relevant to a current project of ours. This was a lovely bit of serendipity."
Other local companies were among the 35 which took part in Pitchfest to ask for a combined investment of over £9m. These included Forty1 Kitesurfing, Care Quest and the Small Robot Company, who not only pitched, but presented in the Knowledge Zone.
James Crook, Managing Director of Forty1 Kitesurfing said, "Despite the weather forcing us onto a compressed schedule, the pitching went smoothly. I was able to display my innovation and make contacts with people with similar interests who can help with the later stages of getting my product to market."
Natalie Dobson, Director of Care Quest, said: "This event is a great opportunity to see what's going on in the local community and meet with investors. Following on from my pitch, I was approached by two potential investors. I made many connections within the tech and healthcare setting, and I will be following up with investors and potential partners in both healthcare and technology."
One of the most popular additions to VFS18 was the Young Entrepreneurs Village, where more than 20 entrepreneurial students from across the region's universities showcased their innovations. Among them were UP Racing, the University of Portsmouth's Formula Student team who attended the event, looking to build relationships with potential partners. Young entrepreneur Denis Brzozowski, Co-Founder of Pyke & Co., exhibited blue light blocking glasses, Sleepwells. He said: "Venturefest South gave us a great platform to build a potential buyer persona. We were able to test the water in terms of what kind of questions people are likely to ask, how they react to certain data, and generally prepare for further exhibiting our product."
Ian Millen, Director of Millennia Insights Ltd., said: "VFS18 was a great event for entrepreneurs, established businesses and those just starting out alike. The day had something for everyone, from advice and prospective investors to education and inspiration. VFS18 was a not to be missed event and I would highly recommend it. I'm already looking forward to VFS19."
Plans are already underway for a programme of Rumble events offering support to innovators and entrepreneurs, including a summer Pitchfest, in preparation for the VFS 2019 showcase. "VFS is a great opportunity to meet with progressive and entrepreneurial local talent and organisations," Nikolaos Maniatis explained, to anyone thinking of attending VFS19.
Following his experience this year, James Crook offers this encouragement: "Venturefest South is a fantastic opportunity to showcase your product to a large and diverse audience. I definitely recommend other aspiring SMEs to take part in VFS19."