Venturefest South attracts over 1,000 visitors for record-breaking 2019 event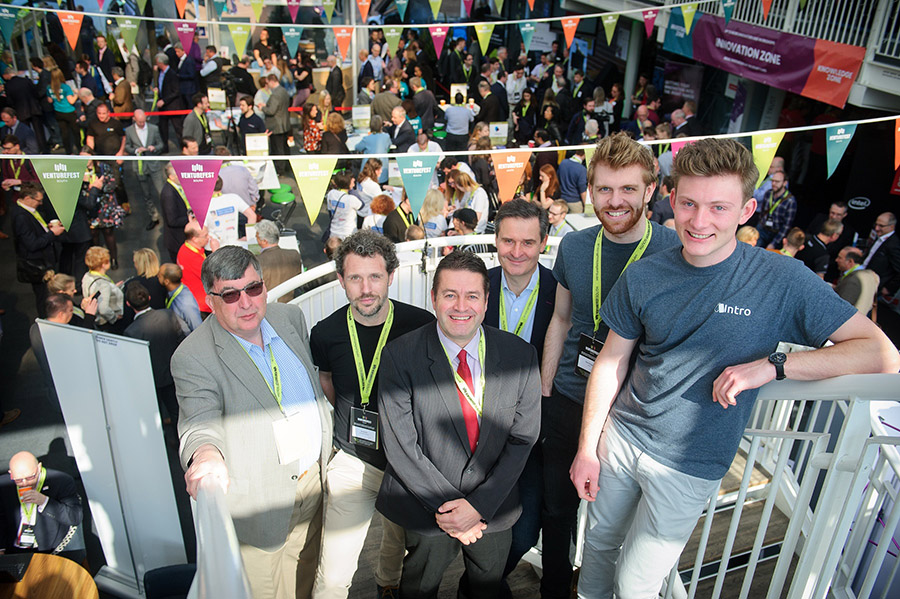 We saw a record-breaking 800+ attendees, 16 innovators from the south pitched for investment, over 70 innovators showcased their business ideas, 38 expert speakers from across the UK imparted their cutting-edge thinking and 12 new entrepreneurs from universities in the South took part in Open Mic.
The Ageas Bowl in Southampton welcomed over 1,000 people as Venturefest South returned for a third, and record-breaking year. The annual event brings together innovators, entrepreneurs, investors and businesses from across the South to share ideas, explore best-practice, showcase new technology and create deals to help develop and take local business ideas forward.
Not only did today's event attract record numbers, it also succeeded in setting an event record with a total £90m worth of investment opportunities, including £45m pledged by Defence Science and Technology Laboratory (Dstl), available to innovators and entrepreneurs attending the event.
Chris Allington, Chair of Venturefest South, said:
"This is the third year of Venturefest South and each year it grows in stature and importance leaving me amazed by the quality of the innovators pitching for investment and the sheer imagination and creativity on display. On behalf of the partners, I would like to thank all the innovators, entrepreneurs, investors, large companies and sponsors that help make this event the success it is.
"The South is a national economic asset which is unique in its research, scientific, technical and innovative capability. Success here resonates across the UK. Venturefest South is about driving economic growth by showcasing success, highlighting opportunities, connecting people and inspiring thinking. This year is the first time we are delivering massive opportunities for small and medium-sized businesses to engage with large organisations with big supply chains looking to work with innovative and dynamic businesses. We are also smashing records with more attendees, more sponsors, more investment opportunities and more excitement."
A not-for-profit partnership, Venturefest South supports the South's innovators by providing them with a platform to showcase their cutting-edge innovations to investors, key influencers and potential business partners.
Some of the innovators and companies that exhibited at this year's show included:
DocHQ – an employee healthcare benefit which helps improve company profitability by reducing sickness and presenteeism. Improving employee health and workplace wellness via fast medical support and occupational health.
HOLM – an 'Express Styling' service that takes only a few minutes, after which, the application recommends styles that best suit the shopper's body shape, fast tracking them from inefficient browsing to the enjoyment of choosing clothes they know will look great.
Proofer – a social media scheduling tool. After raising a pre-seed round, the product has been developed and launched and is quickly becoming recognised as the most easy to use solution on the market. Proofer makes managing your social media accounts a breeze.
Last year, University of Southampton Aeronautics and Astronautics student, Connell McLaughlin, presented his innovation Route Reports. The application enables users to monitor roads, railways and vehicles. It warns them of predicted upcoming hazards such as potholes, overhanging branches and mechanical faults.
Connell won 'Best Young Innovator Award' at Venturefest South 2018. Following support from the University of Southampton Future Worlds incubator programme and his appearance at Venturefest South 2018, four investors each pledged £100,000 towards his business. It is now based in San Francisco and is valued in the millions.
Connell McLaughlin said:
"I had a stand in the Young Entrepreneurs Zone and pitched at the Open Mic event. Venturefest South was great and since then Route Reports has gone from strength to strength – the company is now based in San Francisco with a valuation of $2 million. Venturefest South was a really useful event for both pitching and making contacts and I urge anyone with an innovative product, service or even an idea to attend the event, you can't help but be inspired to do great things."
Venturefest South was created and developed by a group of partners within the regional innovation economy, including: Solent LEP, Innovate UK, Carswell Gould, the Knowledge Transfer Network, University of Portsmouth, Southampton City Council, Solent University, the University of Southampton, Portsmouth City Council and Basingstoke Get Lanched.