Venturefest South gets innovative to help the south's businesses overcome COVID-19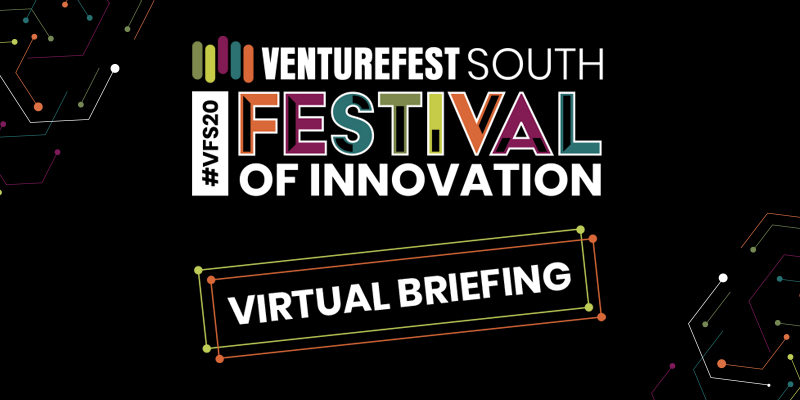 Key points:
Venturefest South gets innovative to help the south's innovators, entrepreneurs and businesses overcome COVID-19 2
October event goes virtual for safety and ease of access
New six-month programme of 'Rumble Events' to support innovators across the south
The new date of 19 March 2021 is announced for the live #VFS21 Festival of Innovation
One of the fastest-growing innovation communities in the UK, Venturefest South, announced today that it will be running the #VFS20 Festival of Innovation as a virtual event on 2 October 2020.
The decision to go virtual is accompanied by the news that all existing ticket holders, sponsors and exhibitors will now benefit from an extended, six-month programme of activity which includes; virtual events, partner 'Rumble Events', regular updates on funding and opportunities, and entrance to the live #VFS21 Festival of Innovation – which will now take place on Friday 19 March 2021.
Ed Gould, Venturefest South Event Director said:
"We have had to respond to the times we are in and the joy of being part of Venturefest South is that it's all about innovation and thinking big. So, we've decided to go super-size and offer people far more than any previous year."
The #VFS20 event was set to be the most impressive yet, with over £100m of funding and investment opportunities confirmed, over 1000 delegates signed up and unparalleled opportunities for innovators, investors and entrepreneurs.
Due to the ongoing COVID-19 pandemic, the decision to move to virtual events in the short term then hybrid and live events later in a bigger programme have been made to ensure the safety of all those involved.
Venturefest South Partner, Rob Solly, Executive Sponsor of Dstl's SME Searchlight commented:
"We're very excited that Venturefest South will be producing this years' showcase as a virtual event and that we've been able to extend the value of the programme with a series of 'Rumble Events' between October and March. A huge part of Venturefest South's success has been the live event which we all look forward to in March."
The virtual event on 2 October will offer delegates the chance to find out about a plethora of opportunities aimed at entrepreneurs and innovators in the south of the UK. This includes new programmes from the VFS partners, including BAE Systems and Dstl.
The event will shine a light on the funding and support available to delegates, offer the opportunity for collaboration and joint working and enable them to develop new skills and capabilities.
Guest speakers include one of the UK's top ten women entrepreneurs, Kate Bell from the brilliant Zip Us In, who won #VFS19 Innovator of the Year.
Venturefest South Partner, James Ford, Growth Hub Manager at Solent Local Enterprise Partnership (LEP) said:
"One of the core aims of the Solent LEP is to support a flourishing business environment that encourages innovation, fosters collaboration and enables businesses of all sizes and sectors to thrive, and that is one of the reasons that we are a founding partner for Venturefest South. That's why we think that at times like these what's most important is that Venturefest South supports the vibrant innovation and entrepreneurial community in the region.

Now, more than ever we need to make sure we have the right support, funding and opportunities available to the brilliant businesses, startups and innovators made here in the south. The programme which Venturefest South is developing for the next six months aims to do just that."
All current ticket holders will be sent more information on how to access the 2 October virtual event. If you don't have a ticket but would like be part of #VFS20/21 you can find out how, by visiting www.venturefestsouth.co.uk or book tickets for both events here.